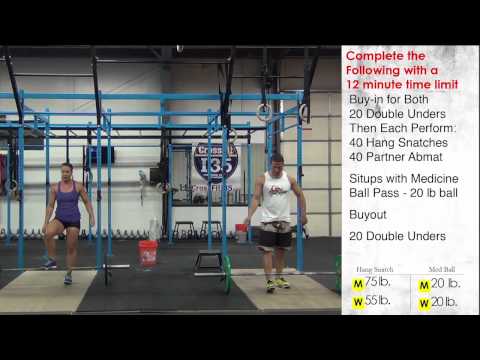 Scaled
For Time with a 12 minute time cap
Each team member completes 20 double unders each as a buy in
40 Hang Snatches 75/55
40 Partner Abmat Situps with Medicine Ball Pass – 20
Each team member completes 20 double unders as a buy out
Team members perform double unders at the same time.
Both athletes must complete the double unders before progressing to Hang Snatches.
Female team member completes 10 hang snatches while male holds the bar in a completed snatch grip deadlift. After the female team member completes her 10 hang snatches, the male begins his 10 hang snatches. Team members switch back and forth every 10 reps until all 40 reps are complete. If the team member holding the static hold drops or sets down the bar, any reps performed by the other team member will not count. Both team members must set the bar down before beginning their designated exercise (snatch or static hold) again.
After all 40 hang snatches are completed, the male and female athletes will begin the Partner Abmat Situps. Each partner will do 40 situps at the same time and the medicine ball will be passed between partners on each rep. One athlete will start with the medicine ball. The partner with the ball must touch the ball to the floor behind the head, then when the athlete sits up, the ball will be passed to the second partner, who will also touch the ball to floor behind the head. For all reps, both partners perform a complete sit up regardless of whether they hold the medicine ball.
Score is the time the final athlete completes 20 double unders.
Movement Standards
Hang Snatch – The athlete must move the barbell from the hang position (at or above the knees) to standing up and locked-out above the head in a single continuous movement. Any repetition taken from the floor must achieve a deadlift lockout (hips and knees fully extended, shoulders behind the bar) before initiating the hang snatch. Hang Muscle Snatch, Hang Power Snatch, and Hang Squat Snatch are all permitted. The barbell may be pressed out if the press begins when the bar is clearly above the athletes head. The bar may be ridden down as long as there is no obvious segmenting of the movement. Dropping the barbell is permitted.
Double Unders – This is the standard double-under in which the rope passes under the feet twice for each jump. The rope may spin forwards or backwards for the rep to count. Only successful jumps are counted, not attempts.
Toes to Bar – In the toes-to-bar, the athlete must go from a full hang to having the toes touch the pull-up bar. Both feet must be in contact with the bar at the same time, inside the hands
Partner Abmat Situps with Medicine Ball Pass – Both athletes must perform the situp on all reps, regardless of whether they hold the medicine ball. The medicine ball must be passed between partners on each rep. The medicine ball must touch the floor behind the head of the athlete on each rep. The medicine ball may be passed or tossed between athletes as long as all other requirements are met.
Special thanks to our awesome athletes demonstrating. Bobby Jo Parrett, Jeremy Wilson, Michael Bell of CrossFit I35 and Brian and Amanda Stites of CrossFit On Track