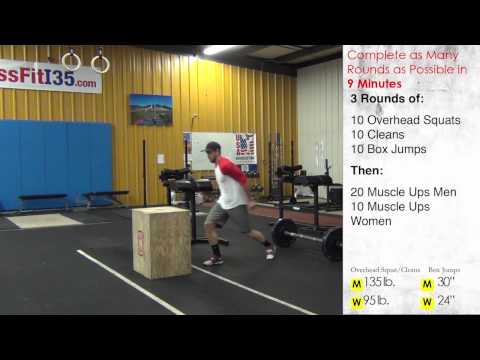 With a 9 minute time limit complete the following:
3 Rounds of
10 Overhead Squats 135/95
10 Cleans 135/95
10 Box Jumps 30/24
Followed by
20 Muscle Ups Men and 10 Women
If all muscle ups are completed within the 9 minute time limit the athlete will begin another round of Overhead Squats, Cleans and Box Jumps.
The tiebreaker for this event will be the completion time of the 3rd set of Box Jumps
Movement Standards
Overhead Squat – For each overhead squat, the hip crease must be below the top of the knee at the bottom of the movement. At the top, the barbell must come to full lockout overhead with the hips, knees and arms fully extended, and the bar directly over the middle of the body. Athletes may get the barbell overhead any way they choose. A full squat snatch is permitted, but not required, to start the movement if standard depth is achieved.
Cleans – Each repetition must start from the floor. Touch and Go Reps are permitted, but athletes are not permitted to catch the bar off of a bounce. Each repetition finishes with the bar racked on the shoulders and the elbows clearly in front of the bar with the hips and knees fully extended. Power cleans and squat cleans are permissible.
Box Jumps – Athletes must use a two-footed jump to get on top of the box. Hips and knees must be fully extended at the top of the jump. Stepping down is permitted.
Muscle-Ups – The athlete must begin with, or pass through, a hang below the rings with arms fully extended (with or without a "false grip") and the feet off the ground. At the top, the elbows must be fully locked out while supporting yourself above the rings. Kipping the muscle-up is acceptable, but swings or rolls to support are not permitted. If consecutive kipping muscle-ups are performed, a change of direction below the rings is required.
Special thanks to our awesome athletes demonstrating. Kyle Koontz of CrossFit I35 and Brian Stites of CrossFit On Track