General Warmup
3 Rounds
30 Seconds Each
With Lighter Dumbbell:
Easy Assault Bike
Down Dog Video
Slow Dumbbell Goblet Squats
Leg Lifts Over Dumbbell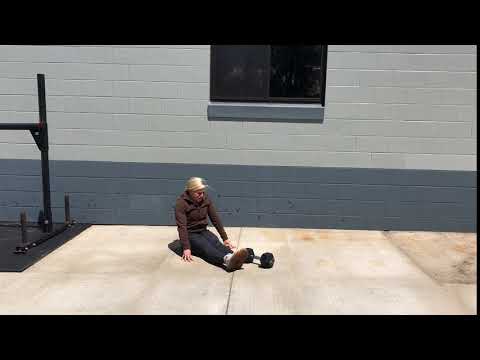 The last movement is a big test of the deepest abdominal muscles and hip flexor strength. We talk a lot about tight hip flexors but strong is important as well. The position to execute this movement well also requires the entire posterior chain to be mobile and flexible. Think both hamstrings and facial systems.
Movement prep 1
5 Pausing Medicine Ball Front Squats (3 Seconds in Bottom)
5 Medicine Ball Push Press
5 Medicine Ball Thrusters
5 Wallballs
Movement prep 2
10 Scap Pull-ups
1-3 Strict Toes to Bar
5 Kip Swings
5 Knees to Chest
5 Toes to Bar
Then
AMRAP 20:
50 Wallballs 20/14
40 Alternating Dumbbell Snatches 50/35
30/24 Calorie Assault Bike
20 Toes to Bar
Yes, these are some high rep sets but one of the objectives of many of our workouts over the last couple of weeks has been to accumulate some pretty big high rep sets.
You should be able to complete at least one full round so scale accordingly.
Always remember that scaling the number of reps is ALWAYS an option that many people are very reluctant to do. So in the case of this workout, scaling weight and number type of movement should be able to keep your reps per exercise high. The goal is still to finish at least one round.
Squat Party
Front Squat + Back Squat
5 Supersets:
3 Front Squats
6 Back Squats
This means the bar starts in the rack, do your 3 front squats, rack the bar, immediately pick it up again then get the 9 back squats.
Rest as Needed Between Sets
Set 1: 50% 1RM Front Squat
Set 2: 53% 1RM Front Squat
Set 3: 56% 1RM Front Squat
Set 4: 59% 1RM Front Squat
Set 5: 62% 1RM Front Squat